Career Autopilot - Acceleration and 100% Job Placement
[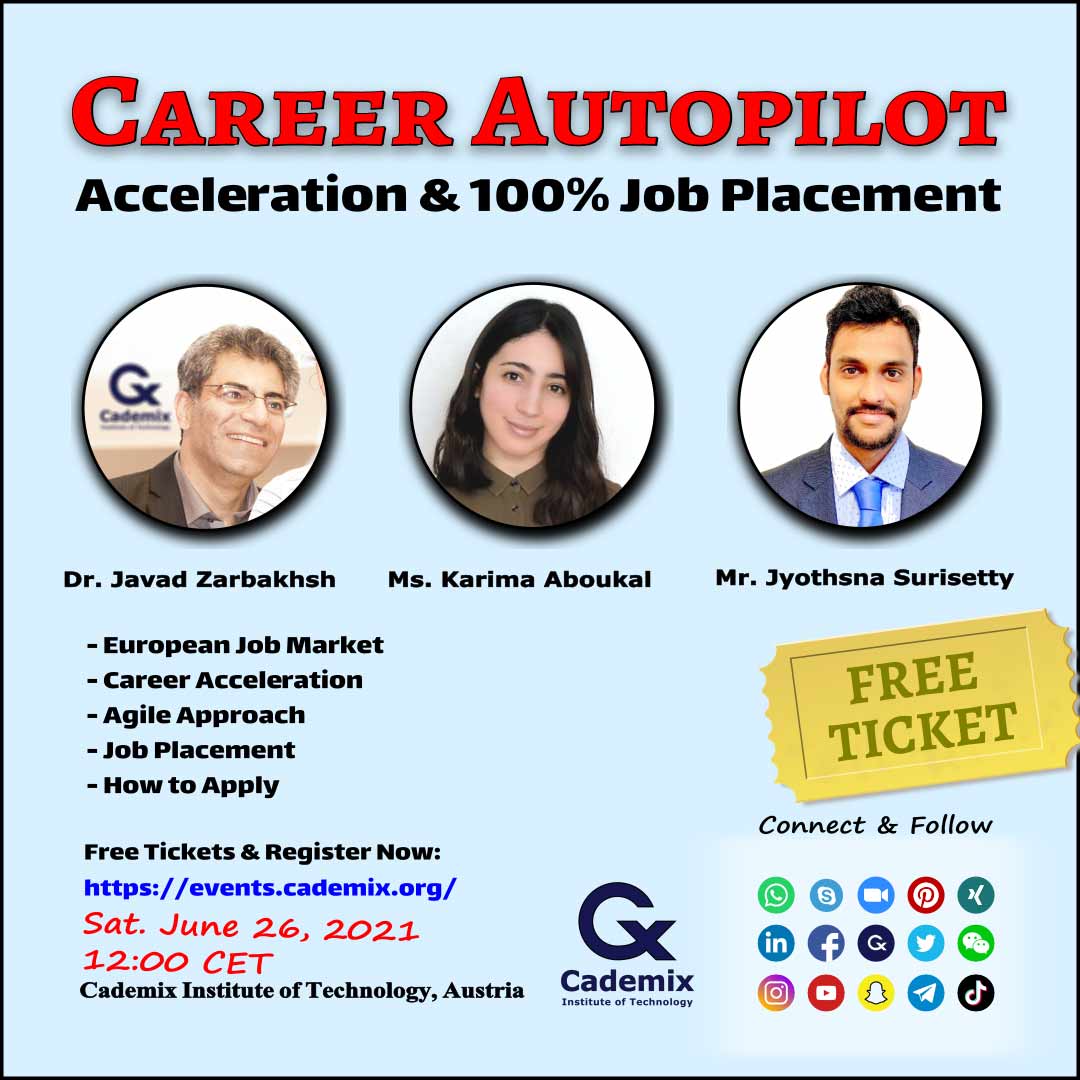 The Cademix Career Autopilot is the State of the Art and the most comprehensive Career Development and Placement Program, for Job Seekers, University Graduates and Tech Professionals. It is a personalized program that includes a combination of industry oriented approach for improving employability and quick technical internships required for Jobs. The program participants receive 1-to-1 mentorship and full application support for the fastest time to job market.
This career advancement opportunity is for young professionals who want to take their career to the next level. We will discuss some of the pathway options to achieving career success and how everyone present can leverage the education and mentorship provided by Cademix Institute of Technology to achieve their career goals. In this session, we will discuss in details what the journey of career acceleration entails and how we can get hands-on training and mini-internships that will enable anyone to get into the industry within a short period of time.
Career Autopilot Plus: All Inclusive program + University Admission Guaranteed. Get a Student Visa, Move to Europe ASAP, improve your Career in parallel, and get full support until you get a job, guaranteed! More details available on https://www.cademix.org/ca
Goals of this Event
Types of Job oriented Education, Pathway Programs and Internships
Understanding the Cademix Pathways and Career Autopilot Program
Overview of the program's process on how it will help you find and secure a Job in Europe
Understanding the concept of the Agile approach in Career Development
Global Job Opportunities Post COVID-19 Pandemic
Q&A Session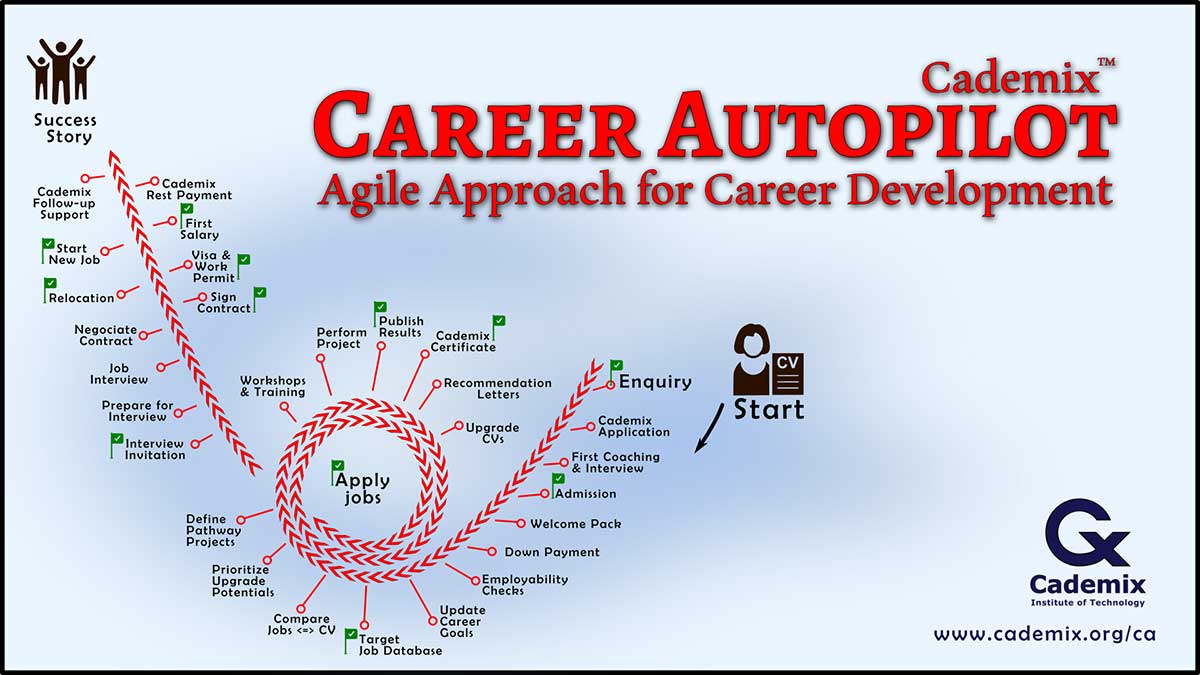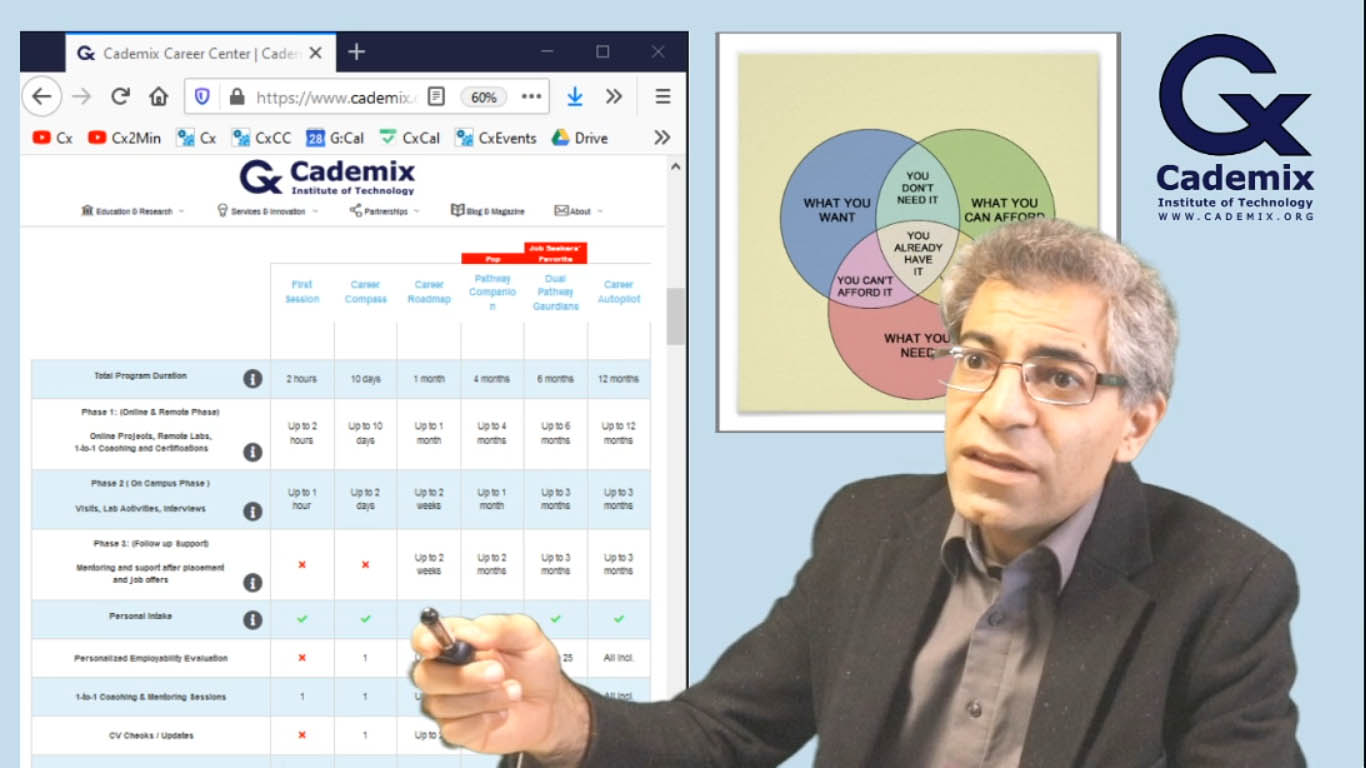 Hosts and Speakers
Dr. Javad Zarbakhsh | President of the Cademix Institute of Technology, Austria

Ms. Karima Aboukal | Member of Cademix Program and an Agile Management and Digital Marketing specialist

Mr. Jyothsna Surisetty | Member of Cademix Career Autopilot Program and an Associate Consultant in R&D
Date and Time Please check the next section for the available Dat/Time Please make sure to set a reminder in your calendar, to be online shortly before the meeting and check your Email to get the latest update how to join the meeting
Language English

Target audience
International Job Seekers, Graduate and Students
People who want to learn about new business opportunities
People who are planning a career upgrade / career change
People who are interested in Immigration, Study and Work abroad

---
Registration
Please see the ticket section below for the available tickets. The Links to the event will be sent to your Email shortly before the meeting. Please make sure to set up a reminder on your own mobile device.
If you are a current student or already registerred in any of Cademix Program, you may contact your Cademix Supervisor, whether you are aligible for an Access Code to receive other discounts.
** Venue ** Cademix Webinar Room / Zoom
The link to the webinar will be sent to your email address within an hour before the webinar begins. Please set a reminder on your side to check your Email before the event starts.

Related tags
Cademix Institute of Technology, Innovation Cycle, Cademix Institute, Free Webinar, Partnership initiavive, ICT Services, Austria, Germany, German, Careers, Internships, Job-search, Career-development, Internship, Graduates, Career center, Career resources, Career exploration, For career, Advisor, Majors, For job, Career services, Career opportunities, Career-planning, New career, Career goals, Career path, Counselor, Postings, Job-seekers, Career options, Seekers, Handshake, Occupations, Fairs, Pathways, Career counseling, Career information, Career paths, For jobs, Advising, Career management, Human-resources, Graduate-school, Career counselor, Interviewing, career fair, Cover Letter, Career fairs, Career coach, advisors, assessment, Resume, Cover letter, online career, internships, career plan, Mock, Online Career, Occupations, Career advice, Employability, Career counselor, Cover Letter, Career Fairs, career advisor, Resume and Cover Letters, vocational, subbatical, occupation, Mock interview, Resume and cover letter, career assessment, career options, career choices, placement guarantee, world of work, Pakistan, Career Autopilot Plus, Career Consultant